You may have noticed over the past couple years, many stores have begun membership programs for their loyal customers. It did not take me too long to notice the new weight of my wallet from all the loyalty cards I have been lugging around. With so many out there, which membership loyalty program delivers the greatest value? I have mapped out my favorites and a list of popular ones out there right now.
Sephora Beauty Insider and Very Important Beauty Insider (V.I.B.)- Members receive 1 point for every $1 spent. One can use 100 points to receive a deluxe size gift or use 500 points to receive a special makeup kit with exclusive products. An exclusive gift is given to members during their birthday month as well. Though 100 points seems like a lot, you will be surprised how much you rack up if you are a makeup junkie. I highly value this membership program because I already purchase inexpensive clearance and sale items at Sephora, receive samples, get points, and receive a sweet birthday gift for free. The V.I.B. status is obtained if a member spends $350 in a calendar year and will retain V.I.B. status through the following year. This is also very rewarding with frequent special deals, free shipping during certain time periods, and other events and deals.
American Eagle's AERewards- AERewards members receive 1 point for every $1 spent. During a three month period, members rack up their points and will receive a corresponding coupon for the amount of points they have. 100 points = 15% off; 200 points = 20% off; 350 points = 30% off; 500 points = 40% off. Members receive the corresponding percentage off of their total purchase during the next three month time period. I admit, this membership used to have much more value a few years ago with smaller point goals. When I was younger, American Eagle was one of the only stores our family purchased clothing from; so as you can see, this was an excellent deal. This deal is excellent when you obtain the points during clearance season when the store has extra savings on top of their clearance. The coupon also holds the greatest value when used on top of extra savings on clearance items. (So that would be getting something on clearance, getting money off of that clearance, then getting more money off of that clearance.) Members also receive 15% off during their birthday month and have access to exclusive clearance and sale events.
Sally Beauty Club- The Sally Beauty Club is one of the greatest memberships out there for salon beauty items and hair care. Members receive special prices on every non-sale item in the store, receive a catalog and coupon in the mail every month, and free products when renewing the club card. It cost $5 to join for a year, but the $5 is given right back to you to spend the next time you visit. There are always inexpensive sale items in the store and the club card discounts from the catalogs make them even more worth while. The products sold are all salon professional quality and with the club card, they are sold at a discounted cost. While it cost me $100 to dye my hair at a salon, it only cost me about $8 to dye it at home and look the same. Just sayin'.
Aeropostale P.S. Rewards Program- This also works on a 1 point for $1 basis. Members will receive $5 for every 75 points, a free birthday gift, and members-only sale and clearance events. This is also a very great rewards program if the points are received through seasonal clearance events with extra percentage savings off of clearance items.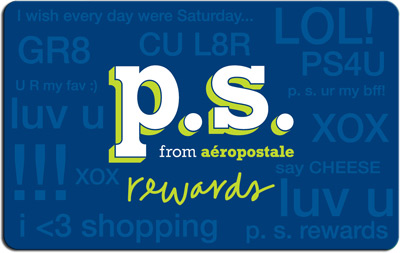 Godiva Rewards Club- Never have I been a part of such a satisfying rewards program. Members receive a free piece of chocolate every month, a free 2-piece gift the following month for a $20 purchase, free standard shipping for one online order, and exclusive offers. I love this rewards program because I literally stroll into the Godiva and pick my chocolate. Though I am not sure if this is proper Godiva etiquette, I feel I have been a loyal patron of Godiva over the years. The 2-piece gift is also a very sweet deal.
Here is a list of my other favorite rewards programs:
Ulta Beauty ULTAmate Rewards- 1 point for every $1 spent; 2x's and 3x's points are frequently available along with weekly coupons and clearance items
GUESS List for GUESS and GUESS by Marciano- 1 point for every $1 spent; 200 points = $10; gifts with purchases, special offers, 2x's points during your birthday month
Hollister Co. Club Cali- Birthday gifts, special offers, free shipping with $100 or more, and other benefits
Abercrombie & Fitch A&F Club- Pretty much the same as Club Cali (as A&F owns Hollister Co.); special offers, free shipping with $150 or more, band birthday gifts
Victoria's Secret Angel Card- a free membership that acts much like a credit card. 1 point for every $1 spent; $10 = 250 points; 6 months of offers worth $100; a surprise birthday gift; early access to special events
bebe's clubbebe- 1 point for every $1; 50 free points for signing up; $10 = 250 points; free shipping from bebe and 2bstores upon reaching 1,000 points; free magazine subscription upon reaching 1,000 points
Panera Bread My Panera Member Card- A great restaurant after a long day of shopping! (Seriously.) I feel like this membership gives you random free food when you order meals. I have received many free pastries and drinks with this card.